Registration deadline: June 5, 2022
Health-A-Thon dates: June 13- August 26, 2022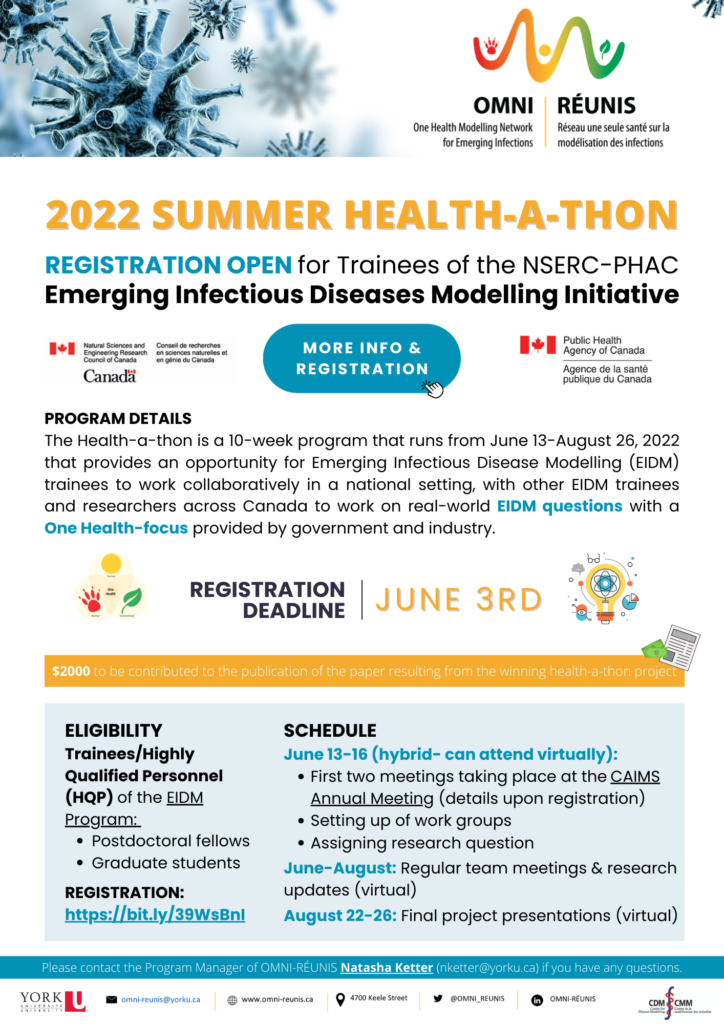 Registration: 2022 Summer Health-A-Thon: https://forms.gle/uvX2NrVMJ93dsuq36
Trainees of the NSERC-PHAC EIDM Initiative are invited to take part in the 2022 OMNI-RÉUNIS Health-A-thon this summer. The Health-a-thon provides an opportunity for Emerging Infectious Disease Modelling (EIDM) trainees to work collaboratively in a national setting, with other EIDM trainees and researchers across Canada, on research problems that will advance federal, provincial and regional public health interests in government and industry.
The Health-a-thon is a ten-week program that runs from June to August, and provides research opportunities for EIDM trainees (postdoctoral fellows and graduate students) to work on real-world EIDM questions provided by government and industry. Trainees will work in small groups with EIDM researchers. A research question from One Health will be assigned to each group from government and industry collaborators.
First week – June 13-16, 2022-: The first Health-A-Thon meetings with trainees will take place during the CAIMS Annual Meeting (Canadian Applied and Industrial Mathematics Society). The meetings will be in a hybrid format with live streaming of talks, and both in-person and virtual poster sessions from June 13-16, 2022. Ahead of the CAIMS workshop, you will learn who will be in your group and you will be assigned a research question from One Health. As part of the first meeting, you will meet with the public health/industry representative/academic that posed the question.
June-August 2022: Each group will work collaboratively and meet regularly over the summer (via zoom and email) to provide research progress updates.
Final week – August 22-26, 2022: Final project presentations would be presented during the last week of the Health-a-Thon.
Winning Project
The final project presentation will be presented and voted on by a panel of judges
$2000 (CAD) will be contributed to the publication of the paper resulting from the winning health-a-thon project if it is accepted and published in a scholarly journal
If you have any questions, please contact Natasha Ketter, Program Manager of OMNI-RÉUNIS at [email protected]
Thank you for registering!
Organized by the OMNI-RÉUNIS HQP Training Team – Dr. Jane Heffernan, Dr. Michael Kallos and Dr. Mark Lewis